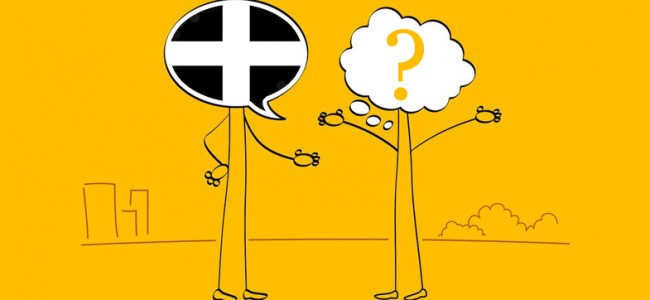 April 11, 2014 - Your Liskeard

The Cornish language has seen a revival in recent years, and around 2000 people across the county are now able to speak a little bit. Here's our quick guide to some useful Cornish phrases…

Hello
Dydh da!
---
How are you?
Fatla genes?
---
I am well, thank you.
Yn poynt da, meur ras.
---
What is your name?
Piw os ta?
---
My name is ……….
………. ov vy
---
Am I in Cornwall?
Yth esov vy yn Kernow?
---
Will it be sunny tomorrow?
A vydh an howl ow splanna avorow?
---
Where is the beach?
Ple'ma an treth?
---
Is there any surf today?
Eus mordardh hedhyw?
---
Where can I buy a pint of cider?
Ple hallav vy prena pinta sider?
---
Who sells the best pasties?
Piw a werth an gwella pastiow?
---
I would like to buy a pasty.
Da via genev prena pasti.
---
I would like another pasty.
Da via genev pasti arall.
---
No, I'm too full to eat another pasty.
Na, re leun ov vy dhe dhybri pasti arall.
---
I'm only joking! There is always room for a pasty!
Ges yw! Yma spas puprys rag pasti!
---
If you would like to have some fun saying a few phrases in the company of other Cornish speakers, you can find clubs and pubs that have Cornish language nights throughout the county. The nearest Cornish language class takes place in Lostwithiel on Monday evenings, and you can find out more about it here.
Kindly translated by Mrs Julia Wass.