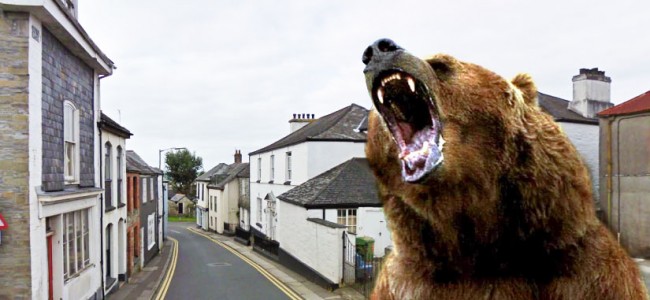 March 6, 2014 - Your Liskeard

Here's a story that's BEAR-ly believable. In the early 1800s there was a lodging house at the bottom of Higher Lux Street. Owned by a man named Bat Rowe, it offered a place to rest for travelling workers.

On one occasion two Frenchmen stayed there overnight along with their performing bear. Clearly health and safety hadn't been invented yet.

When the Frenchmen retired to their chambers they left the bear in the downstairs passage. Old Bat returned home later that evening, a little worse for wear. As he entered the house he stumbled into what he thought was an inebriated lodger. Tired of drunk and disorderly guests, Bat lost his temper. "Why don't you get your boots off and go to bed?". Giving a forceful kick to bolster the request.

The bear awoke and rose to its feet, giving old Bat the fright of his life. He shot out the door and stayed out until morning. The two Frenchmen awoke refreshed, came downstairs and left with the bear.

After which, we can only assume that old Bat decided to revise his "pets allowed" policy.

Today of course you can spend the night in one of Liskeard's many hotels and guesthouses free from the tyranny of angry bears. Just spare a thought for old Bat next time you trip over the dog.
If you have any Curiously Cornish tales from Liskeard's history, share them with us below!