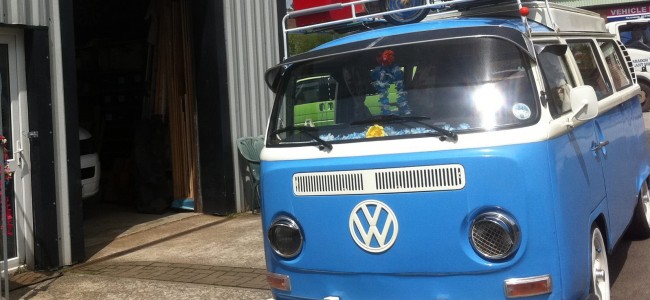 June 23, 2014 - Your Liskeard

We all know (or we should by now!) that Liskeard Town Centre is a hive of activity, with plenty of unique shops, delightful eateries and traditional trades such as our fantastic butchers, fishmongers, grocers and bakers. But head off the beaten track and there's even more to discover. Below you'll find a few examples of what Liskeard has to offer, you can also check out our Local Services page for more information.
Coastal Campers
Have an old VW that's in need of a spruce up? This family run business transforms vans with floor mats, elevated roofs, insulation, beds and more. Be sure to pop in and say hello. Visit Coastal Campers on Facebook.
---
Print 2 Media
Print signage, PVC banners, literature and "the best banners in the southwest" – whether you're looking for artwork or already have a finished design. For more info visit www.print-2-media.com
---
Liskeard Classic Cars
Fancy a jolly around the countryside in a beautiful classic car? Liskeard Classic Cars have vehicles available to buy and hire – why not travel around Cornwall in style this summer? Visit the website at www.liskeardclassiccars.co.uk
---
Krystal Kitchens and Bathrooms
A premier bathroom, kitchen and bedroom company right on your doorstep. You'll find their showroom on the Trevecca Industrial Estate. Find them online at www.krystalkitchensandbathrooms.co.uk/
---
Solartec
Need double-glazing? Solartec manufacture all of their products on the Moorswater Industrial Estate, Liskeard. Visit their website for more information.
---
Hotline Chimneys
From their warehouse on the Moorswater Industrial Estate, Hotline Chimneys sell everything from Chimney Pots to Insulated Flues. You can pop in, or shop through their website. www.hotline-chimneys.co.uk
---
Outdoor Features
Beautiful gazebos, automated gates, custom railings and unusual sculptures, if you have an outdoor space in need of some attention, visit the Miller Business Park (or their website! www.outdoorfeatures.net)
---
Caradon Tool and Plant Hire
For diggers, traffic lights and even site accommodation – Caradon Tool and Plant Hire can be found at Miller Business Park or online at www.planthirecornwall.co.uk
---
D Bennett and Sons (Joiners)
A quality, family run joinery business based on the Miller Business Park. This is their website.
---
Liskeard Metal Finishers
Specialists in powder coating and shot blasting, the team at Liskeard Metal Finishers can bring a new lease of life to anything from motorbikes and bicycle frames to office furniture. Find them at www.liskeardmetalfinishers.co.uk
If you know of a fantastic business we haven't mentioned (but should have!), give them a shout-out on our Facebook page.